FCICA Announces Details of the 2022 Mid-Year Meeting Keynote Speaker, Randy Weis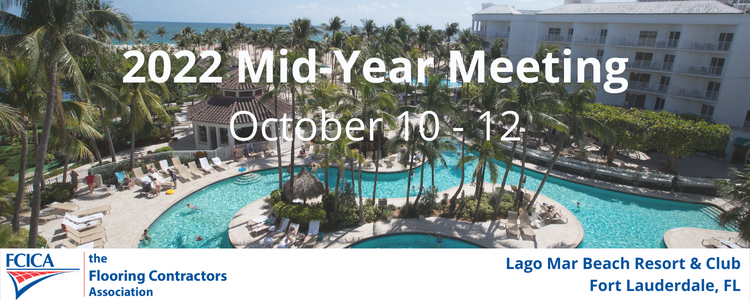 FCICA shares details of the 2022 Mid-Year Meeting Keynote Address from Randy Weis, Diverzify
FCICA, the Flooring Contractors Association, is pleased to share the 2022 Mid-Year Meeting will open with a keynote address from Randy Weis, Executive Vice President with Diverzify.
The opening keynote is sponsored by the generous contribution from members Diverzify and Synergy Flooring, Ltd.
The 2022 Mid-Year Meeting will take place October 10 - 12, 2022 at the Lago Mar Beach Resort & Club in Fort Lauderdale, FL.
Randy Weis' opening keynote 'Is the Past an Accurate Predictor of the Future?', will address how for many years, commercial flooring contractors could be successful doing just one or two things. Today, the market is different, with different products taking traditional flooring market share. Flooring contractors now must be able to expand what they offer. Customers want to bundle their spend. Learning how to adapt is crucial to your success. What made you great at one time, may no longer be the key to your future.
Randy will speak from years of experience within the changing commercial flooring landscape – small independent commercial contractors vs. larger flooring companies. He'll share both his professional experience and Diverzify's successful industry brand expansion through its innovative vision and quality customer service.
Randy Weis' career began in logistics for Bristol Myers Squib, then later heading up operations where a successful warehouse automation project prompted a move to corporate staff in the Real Estate, Facilities and Purchasing division. It was in this role where he was introduced to commercial flooring through a flooring improvement project. After this introduction and many years at Bristol Myers Squib, Randy started a floor care company with Milliken Carpet, called MilliCare. Starting in 1990, Randy expanded his commercial carpet care business adding multiple Northeast locations. In 2019 he partnered with Diverzify, becoming its President of Sales and Marketing. Today Randy is the Executive Vice President within the labor self-performing operations division.
Formed largely through the combined assets, operations, and resources of commercial flooring industry leaders, Diverzify is an advanced-model vertically integrated commercial flooring resource to commercial construction and facility management professionals worldwide. The Diverzify enterprise blends traditional craftsmen service quality with advanced proprietary technologies to establish a new standard of service for the commercial flooring industry.
FCICA expresses its thanks to keynote sponsors Diverzify and Synergy Flooring, Ltd. for their generous support.
Registration for the 2022 Mid-Year Meeting is still open. Visit https://www.fcica.com/mid-year-meeting-2022/ for more information and to register.
###
Additional Info
Media Contact : Catherine Church | info@fcica.com
Related Links : https://www.fcica.com/mid-year-meeting-2022/