FCICA Shares 2022 Mid-Year Meeting MAPEI Plant Tour Highlights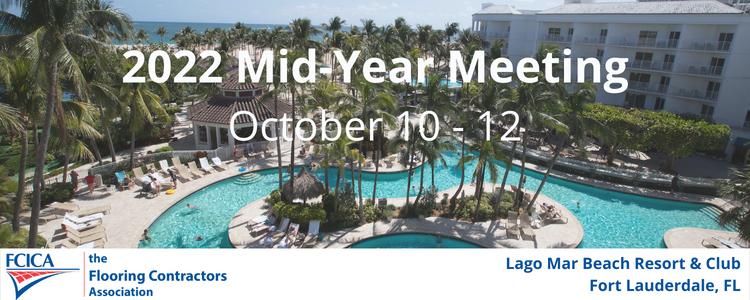 FCICA shares highlights of the 2022 Mid-Year Meeting MAPEI Plant Tour.
FCICA, the Flooring Contractors Association, is pleased to share highlights about the MAPEI Corporation plant tour, a part of the 2022 Mid-Year Meeting event.
The 2022 Mid-Year Meeting will take place October 10 - 12, 2022 at the Lago Mar Beach Resort & Club in Fort Lauderdale, FL.
The MAPEI Corporation plant tour will take attendees through two sites - the state-of-the-art cement product production facility in Fort Lauderdale and its flagship R&D facility located at its corporate headquarters in Deerfield Beach, FL.
During the tour, visitors will see first-hand the level of investment MAPEI has placed on highly efficient and accurate production and packaging of the numerous powder products available in the MAPEI portfolio.
The Fort Lauderdale production facility is one of 15 manufacturing locations in North America and not the largest, yet the scale on which MAPEI operates is on display - fast-paced production, high inventory volume.
The second part of the tour is the high-tech R&D facility. There, visitors will see evidence of MAPEI's focus on R&D – in excess of 5% of sales revenue. One will observe chemists at work on formulations for cement based mortars, grouts and other wet chemistry products. The tour includes the lab, an inorganic analytical lab where participants can examine everything from x-ray crystallography to complete chemical analysis of various chemical compounds. The lab's equipment deciphers many of the chemical mysteries MAPEI works on. What this means to a flooring contractor is - one may try to explain away why something has gone wrong with one of MAPEI's products but the R&D analytical lab always gets to the truth.
MAPEI looks forward to welcoming all contractors, consultants and honorary members to tour its facilities – and promises an educational and entertaining afternoon. Following the tour, all 2022 Mid-Year Meeting attendees are invited to the MAPEI-hosted evening reception.
FCICA thanks MAPEI for hosting tour visitors and the 2022 Mid-Year Meeting closing reception.
###
Additional Info
Media Contact : Catherine Church | info@fcica.com
Related Links : https://www.fcica.com/mid-year-meeting-2022/