FCICA to Host a MAPEI Product Webinar and Introduces a New Auction Feature to its Product Webinars
FCICA, the Flooring Contractors Association, announces a February MAPEI Corporation product webinar and silent auction featuring donated MAPEI adhesives.
FCICA invites you to join us for 'Adhesive Selection and Installation for LVT' Thursday, February 10, 2022 at 11:00 AM Central / 12 PM Eastern. Jeffrey Johnson, FCIS and Retail Business Marketing Manager with MAPEI Corporation, will present.
Registration is open! This webinar is offered FREE to FCICA members and nonmembers.
During the course of this presentation, Jeff Johnson, will discuss:
Learn about the physical make up and dimensional dynamics of luxury vinyl plank
Understand the environmental influences that can affect the dimensional stability of LVP/T
How to select the correct MAPEI adhesive for specific LVT applications based on various performance attributes and benefits of the various adhesives, and which ones to use when.
Methods and recommendations that ensure proper LVT installation
Presenter, Jeffrey Johnson is the FCIS and Retail Business Marketing Manager for MAPEI's Floor Covering Installation Systems product assortment. He has more than 30 years of experience in floor-covering installation product development and marketing. With practical experience in construction and as an adhesive bench chemist, Jeff has a unique perspective on the materials used in the flooring installation industry. As a bench chemist, he formulated water based and reactive type adhesives. In his current position, Jeff drives sales growth, product innovation and education for floor covering installation products involved with the carpet, resilient and wood flooring installation market segments.
---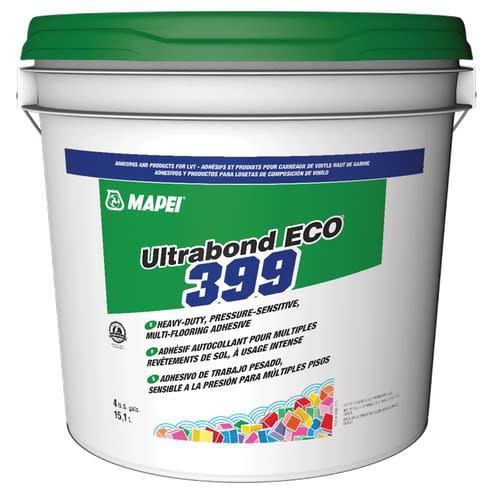 NEW! Bid on MAPEI product after the webinar presentation!
FCICA has introduced a new feature to its product webinars – the chance for attendees to bid on products featured in the webinar presentation.
At the conclusion of the webinar, attendees will have the opportunity to place a live bid on:
12 4-gallon pails of ECO 399 Heavy-Duty, Pressure-Sensitive, Multi-Flooring Adhesive
Retail value: $850. Bidding starts at $500. Ultrabond ECO 399 is a high-moisture-resistant, heavy-rolling-load-resistant, aggressive, pressure-sensitive adhesive with enhanced dimensional control properties designed to install a wide variety of resilient flooring types. Materials will be shipped to the winning bidder via the local MAPEI distributor. Click the image to learn more about the product.
The live auction will take place during the last 5-7 minutes of the webinar. Bids will be taken via chat, or verbally through the webinar platform. You'll want to be sure to be present until the end to place your winning bid!
All proceeds from the auction benefit FCICA and its mission to support the commercial flooring industry and flooring professionals. FCICA is grateful for the generous donation from the MAPEI Corporation.
Images