Industry Event: FUSE Annual Conference, March 1-2, 2021 Virtual
3/1/2021 - 3/2/2021
Description
Industry Event: FUSE Annual Conference | March 1-2, 2021 Virtual
Working together during a pandemic has magnified the importance of a flooring network, such as Fuse. Sharing best practices and ideas that benefit all members has played a significant role in navigating the extraordinary circumstances of 2020. The 2021 Fuse Annual Conference will build upon this coming together as The Impact of One brings even more insight as we look to the future of the flooring industry and the contractor's role in the supply chain.
Our Preferred Supplier partnerships are key to our network's success and while this years' experience will look different, I am committed to supporting Suppliers even more than I already do to make this meeting a success for everyone.
Below is a screenshot of sample booth to help you visualize how we will bring the Fuse Exhibit Hall to attendees. We are very excited to offer a 3D interactive experience for both attendees and Suppliers to make this virtual conference as close to the in-person experience as possible.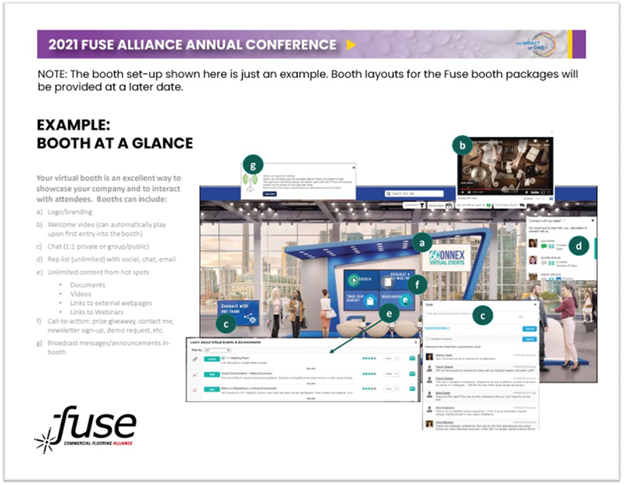 Virtual Booth Packages featuring as many documents and videos you'd like to share, as well as the ability to text AND video chat 1:1 with attendees!
Virtual Supplier booths will feature the ability to share marketing documents and videos as well as 1:1 text AND video chat with attendees – all from your virtual booth. In addition, suppliers will be given detailed analytics about attendees, who visited their booth, what they view/downloaded and who they chatted with.
To support Suppliers as they make decisions and build their virtual booths, we are offering the following support:
Live demonstrations via Zoom with me, Exhibits Director Ashley Combs, to show you exactly what the virtual experience will look like for attendees and what your booth experience will be.
Training via Zoom to show Suppliers how to customize their booth and how to navigate their booth features in order to maximize their experience.
A Virtual Supplier Toolkit with FAQ's to ensure Suppliers know the features of their booth and where to get help if they need it.
BOOTH PACKAGES & SPONSORSHIP OPPORTUNTIES
We are excited to present this year's virtual exhibit booth packages and sponsorship opportunities, which are detailed in the Supplier Prospectus. Please take a look at the 2021 Fuse Supplier Prospectus online to see what booth and sponsorship opportunities are available.
QUICK LINKS:
ONLINE FUSE PREFERRED SUPPLIER PROSPECTUS
SECURE A BOOTH PACKAGE OR SPONSORSHIP
More detailed information will be released at the end of this month. In the meantime please SAVE THE DATE for the 2021 Fuse Annual Conference and begin working with your team on your Supplier Booth participation!
Call Preferred Supplier Support, Ashley Combs at 859-264-7822 or email ashley@strategyaem.com if you have any questions.
Online Conference

Event Contact


Categories
Conference
CEUs Available
Educational Sessions
Flooring Industry Event
Continuing Education