Federated Insurance - Cyber Security is Everyone's Business
Tuesday, May 16, 2023 (1:00 PM - 1:30 PM) (CDT)
Description
Industry Partner, Federated Insurance, is offering a free webinar 'Cyber Security is Everyone's Business' Tuesday, May 16, 2023 (1:00 PM CST) 30 minutes. Advanced registration required.
With 82% of cyber security incidents being the result of human error, security leaders, auditors, and regulators increasingly recognize that a more intentional focus on the human defense side of cyber security is critical to the protection of organizations. At the forefront is creating a cyberaware culture with employees that understand their respective roles and responsibilities in keeping the organization, and themselves, cyber safe.
Who Should Attend?
Operations Managers
Owners/Operators
Risk Managers
HR Professionals
Register directly with Federated - here.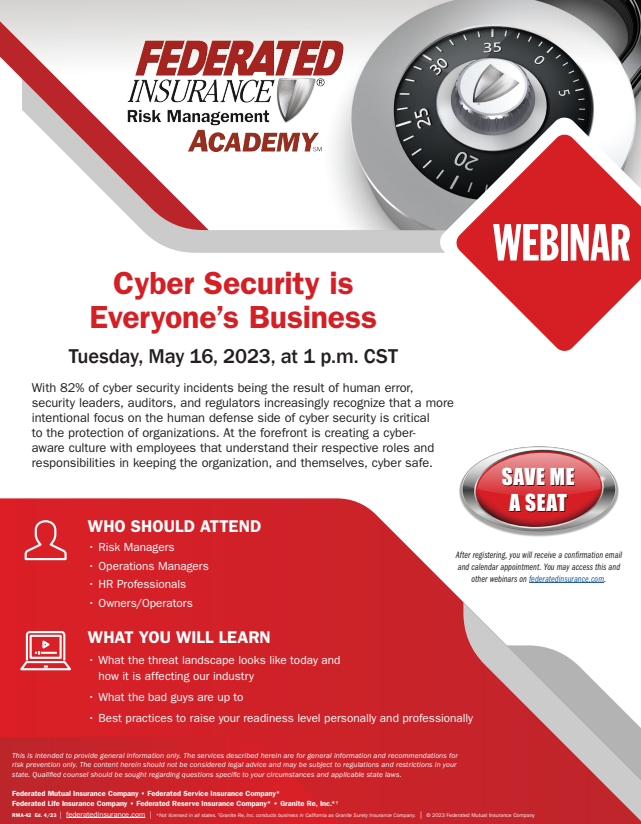 Images
Online Webinar

Tuesday, May 16, 2023 (1:00 PM - 1:30 PM) (CDT)
Categories
Webinar
CEUs Available
Educational Sessions
Training Opportunity
Association Event
Continuing Education