FCICA Shares the 2022 Mid-Year Meeting Education Sessions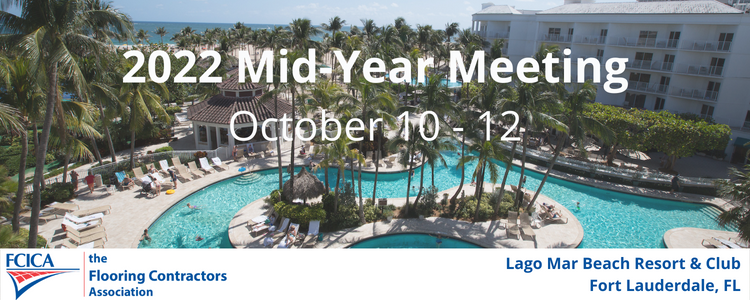 FCICA shares details of the 2022 Mid-Year Meeting Education Sessions
FCICA, the Flooring Contractors Association, is pleased to announce details of the education sessions offered at the 2022 Mid-Year Meeting, presented by FCICA members and flooring experts who will share their expertise with event attendees.
The 2022 Mid-Year Meeting will take place October 10 - 12, 2022 at the Lago Mar Beach Resort & Club in Fort Lauderdale, FL.
The four education session are:
Navigating the New Jobsite-Contractor Panel
panelists Randy Weis, Diverzify, James Lockwood, Consolidated Flooring, Elaine Kidd and Cynthia Schofield, MEK Interiors and Floors,
Open forum discussion lead by contractors who will share first-hand how recent economic, business and current events have effected their businesses, workforce and future.
Modern Installer Tools
presented by Corey Dickerson, Wolff Tools/Uzin Utz
Tools of the trade are key to a successful installation job - and tools are constantly evolving. Learn about new industry tools that check all three boxes of a game changing modern tool: safety, productivity and superior finished product.
Avoiding the Risks of Concrete Moisture
presented by Greg Mercurio, IFTI, Independent Floor Testing and Inspection, Inc.
Learn about the history of concrete, concrete moisture and how it can wreak havoc on your flooring installation. Armed with info on the various test methods, best practices, common errors and industry requirements around moisture testing, you'll learn the latest tips and tools to use to avoid the risks associated with concrete moisture testing altogether.
Commercial Flooring Software
presented by Kathy Case, Takeoff Co, LLC; Jerry Freeman, Spec-Intel; Bob Noe, Pacific Solutions and James Wisdom, Measure Square
Outsourcing and the use of technology have become a solution to staff shortages and the fast-pace, high demand of clients. Learn how third party services and software integrate to create cost and time saving options for your business.
Registration for the 2022 Mid-Year Meeting is still open. Visit https://www.fcica.com/mid-year-meeting-2022/ for more information and to register.
###
Additional Info
Media Contact : Catherine Church | info@fcica.com
Related Links : https://www.fcica.com/mid-year-meeting-2022/