FCICA to host 7 Product Demos at the 2022 Mid-Year Meeting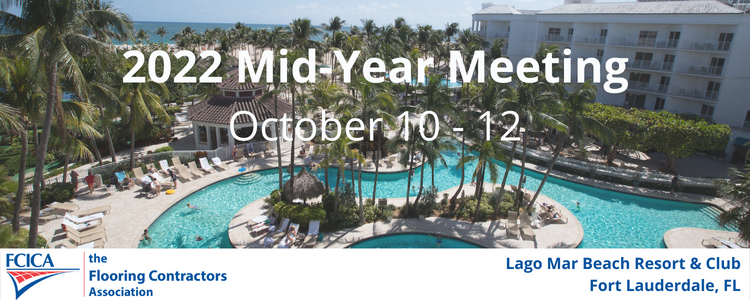 FCICA to Host 7 Product Demos at the 2022 Mid-Year Meeting
FCICA, the Flooring Contractors Association, is pleased seven member companies will demonstrate their flooring products and services to attendees at the 2022 Mid-Year Meeting.
The 2022 Mid-Year Meeting will take place October 10 - 12, 2022 at the Lago Mar Beach Resort & Club in Fort Lauderdale, FL.
The seven product demonstrations are from:
Divergent Adhesives - Divergent Adhesives will demonstrate the Divergent DS-100, a patented water-based copolymer product designed to treat interior moisture vapor emission (up to 25 lbs. per ASTM F1869 or up to 100%RH when tested in accordance with ASTM F2170) and protect against Alkalinity (up to 14 pH) prior to installation of moisture or alkaline sensitive floor coverings.
Floorcloud - Floorcloud will introduce and demonstrate the Floorcloud mobile and desktop software featuring several customer success stories.
LATICRETE International will demonstrate their latest products.
MAPEI Corporation - MAPEI will demonstrate the Ultracoat ReNewIt system of products and how they can be used to refurbish and renew existing LVT and VCT flooring.
Protect-All Flooring - The Protect-All team will demonstrate its interlock tiles, 2x2 tile installation and welding.
Sunbelt Rentals - Sunbelt will demonstrate its ROG-60 Ride-on Grinder and the DX26-P Direct Drive Grinder - important tools for the trade.
Uzin Utz - The Uzin Utz team will present the Wolff Rail Cut Seam Cutter, a multi-use tool for creating seams, making vinyl rip cuts and cutting rubber flooring.
Registration for the 2022 Mid-Year Meeting is still open. Visit https://www.fcica.com/mid-year-meeting-2022/ for more information and to register.
###
Additional Info
Media Contact : Catherine Church | info@fcica.com
Related Links : https://www.fcica.com/mid-year-meeting-2022/