Top 10 Reasons to Join FCICA - Reason #5 The Flooring Contractor Magazine
FCICA Shares Top 10 Reasons to Join!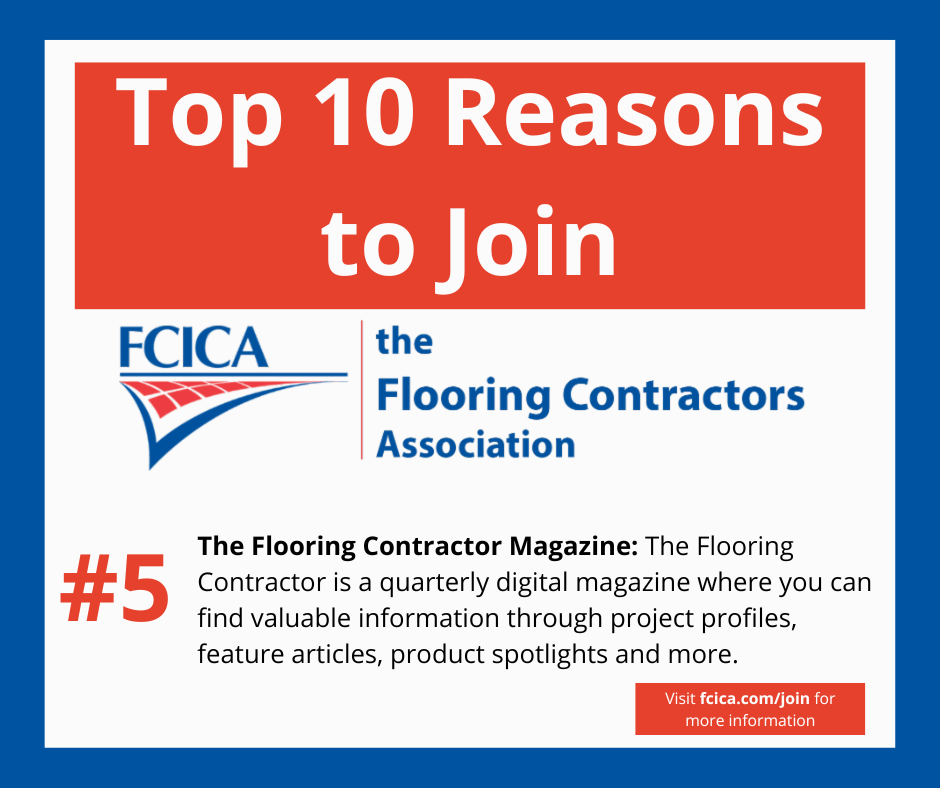 Membership in FCICA has many benefits. The Flooring Contractor magazine is a top 10 reason to join.
The Flooring Contractor, a quarterly digital magazine, contains feature articles, project profiles and product spotlights to keep the flooring community informed and up-to-date on industry trends and products. New themes each issue.
Contributions to the magazine is open to members only. Reach the commercial flooring industry - submit your ad, article or editorial - an exclusive member benefit.
Read the Summer 2022 issue - 'Flooring Installation for Schools'.
Already a member? Then you've experienced the benefits of FCICA educational opportunities. Share your experience and the Top 10 Reasons to Join with your industry peers and start the conversation.
There's even more reasons to be a member - Top 10 Reasons to Join.
---
FCICA, the Floor Covering Installation Contractors Association, a nonprofit trade organization formed in 1982 and headquarted in Glen Ellyn, IL, is the resource for premier commercial flooring contractors. FCICA strives to promote the advancement and continuous development of Certified Installation Managers (CIM); provide technical education, business support and industry expert networking; and deliver skills and knowledge to enhance the professionalism of commercial flooring contractors. FCICA is an international association whose contractor members serve the continental U.S. plus Burma and Canada. For more information about FCICA visit www.fcica.com or contact us at (630) 672-3702.
Additional Info
Media Contact : Catherine Church | info@fcica.com
Related Links : https://www.fcica.com/join/